GIOF2021 Online Expo
GIOF2021 Online Expo is a B2B platform embedded in Global Inclusion Forum's main program designed to bring together diversity & inclusion consultants, HR & recruiting professionals, as well as creators of inclusive products and services with their prospective clients from the global audience. Exhibitors will have the opportunity to present their products and solutions in a virtual booth format available on our event platform to 5000+ attendees.

Why exhibit at GIOF2021?
Global outreach

Engage with a highly targeted audience

Get access to visitor analytical report, track live traffic

An Exhibitor enjoys networking opportunities on the virtual event platform and is entitled to have 20 complimentary VIP invitations sent to the potential clients of their choice. An Exhibitor will have a page on the website with their bio, logo, and link to the website.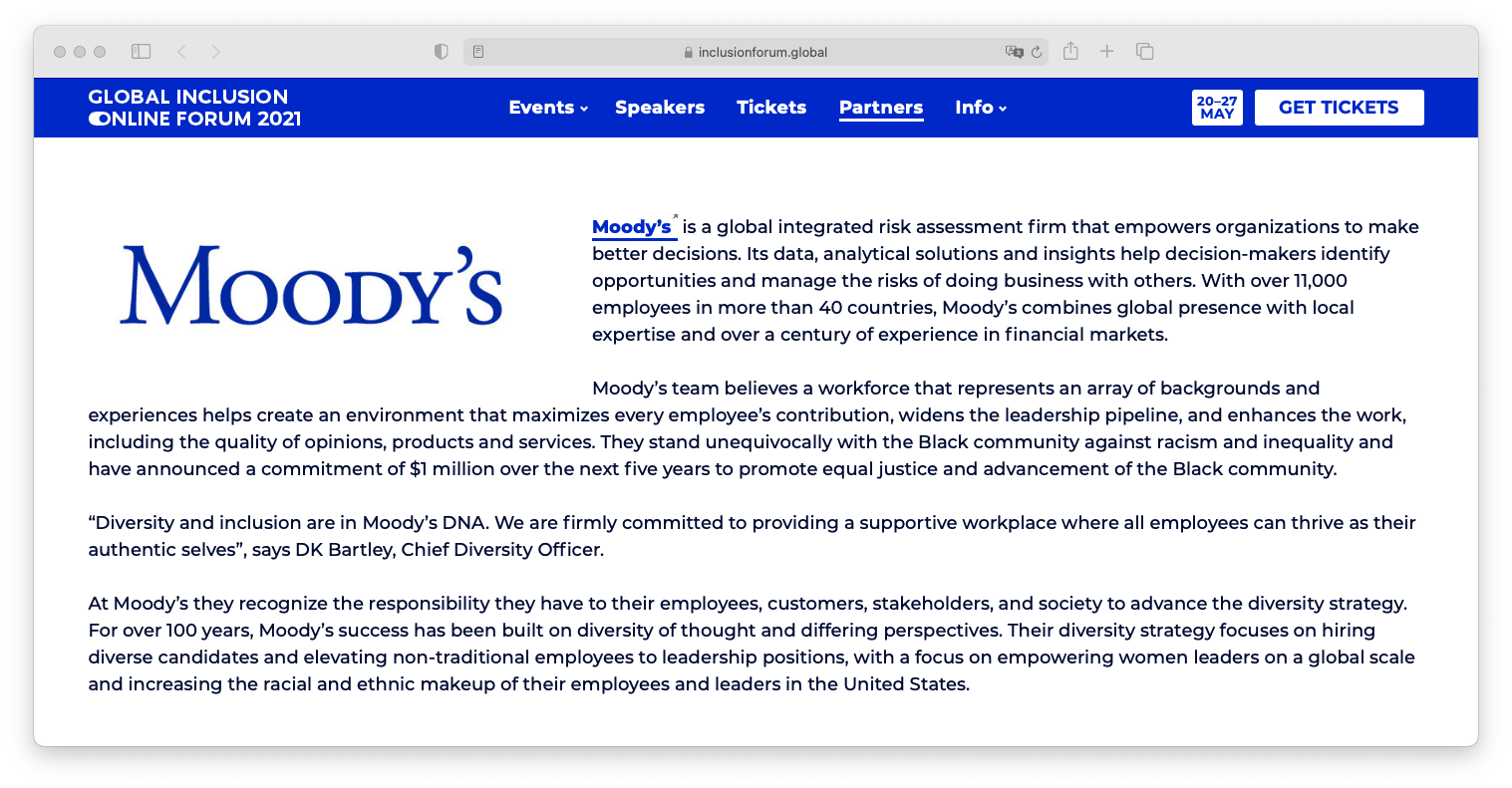 Who will see your company?
30,000+ website visitors

20 VIP invitations sent to your prospective clients

5,000+ participants on the platform

The company's virtual booth can serve as an online advertising platform for senior leadership, heads of HR, diversity & inclusion officers among our attendees. Exhibitors will be able to run promo videos, give links to their products, attach handouts, connect with interested attendees, and host interactive sessions.

How your exhibitor booth will look like:

Categories
Exhibitors will present their solutions in 4 categories:
Diversity & inclusion solutions — consultants and experts providing assistance to corporations to create more diversity and inclusion in the workplace;

HR & recruiting solutions — supporting solutions helping to enlarge talent pipeline and hire more diverse talent;

Inclusive products and services — providers of products and services designed for minorities and underrepresented groups, i.e. software for people with visual impairments, devices and gadgets for people with disabilities, solutions for aged people or other categories with special requirements;

Inclusive business cultures — exemplary businesses that excel in their inclusive corporate cultures and are ready to share their experiences or build partnerships with diversity & inclusion activists, NGOs and businesses around the globe.


Confirmed exhibitors

TOTAL NUMBER OF VIRTUAL BOOTHS: 45